Print

Features
Specifications
Options
Built with purpose, the TL5500 easily switches from round to square bales with a few quick adjustments. Raise the two table rails to give the bale proper clearance and raise the roller bed to ensure the proper discharge angle.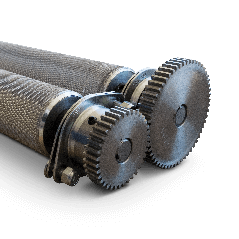 Pre-Tensioners
To create the 55% (approx.) stretch of the plastic, the pre-tensioners are knurled which allows them to grip and pull the plastic between the rollers activating the bonding agent in the film.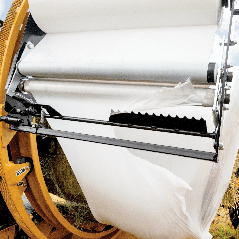 Film Snap - Patent Pending
Standard on all inline Balewrapper models, Tubeline's Film Snap easily cuts wrap with a single action. Press and hold the Film Snap plunger located beside the operator's panel until both the tensioners pass, triggering the cutting action. The Film Snap bar snaps into action safely cutting the wrap without stopping the cycle.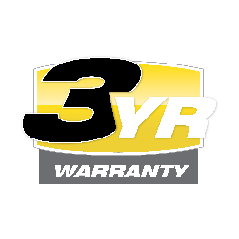 3 Year Warranty
Inline wrappers carry a 3 Year Limited Warranty. For more information please contact Tubeline Manufacturing.
ECV Exclusive Features
Soft Start
Bale Counter (Lifetime)
Bale Counter (Resettable)
Bale Presets
Large Easy to Read Display
Remote Engine Start
Self-Diagnostics
Single Joystick Control to drive/steer
Other Standard Features
Main Control Panel Wired for Field Installed Options
Safety Shut Off Switch on Guards
Safety Shut Off Switch on Panel
Retractable Tongue
Folding Tongue
13HP Honda Engine
Low Oil Alert on Engine
Spark Arrestor on Engine
Hydraulic Manifold
Hydraulic Steering
Temperature Gauge on Hydraulic Tank
25L / 6.6 USG Fuel Tank with Fuel Pump
Limit Switches
Adjustable Stroke Length on Charge Table
Round to Square Bale Wrapper Conversion
Roller Bed Locking Lever
Electric over Hydraulic Controls
Fully Automatic Cycling
Automatically Idles Down When Cycle Completed
Drive Wheel
Wrap Carrier
Lock Pin (Hoop)
Roller Wheels
Push Ram
Push Ram Cylinders
Cross Tube Unloading (to push off last bale) Patented
King Pins with Tapered Bearings
Cam Brakes
Road Lights
Specifications
TL 5500 AX2
TL 5500 ECV
Overall Length
25' 6"
25' 6"
Width
9'
9'
Height
9'
9'
Weight
5,250 lbs.
5,250 lbs.
Power
13 Hp Honda
13 Hp Honda
Electric Start
Standard
Standard
Alternator
18 Amp.
18 Amp.
Hydraulics
Self-contained
Self-contained
Controls
Electric over Hydraulic
Electric over Hydraulic
Tires
(4) 11L x 15 8 Ply
(4) 11L x 15 8 Ply
Tires with Power Drive
(2) 11L x 15 8 Ply
(2) 27 x 10.5 Traction
(2) 11L x 15 8 Ply
(2) 27 x 10.5 Traction
Quick Start Leveling
Hyd. Lift Jack (Opt.)
Hyd. Lift Jack (Opt.)
Brakes (Compactor)
Adjustable Cam Action
Adjustable Cam Action
Steering
Electric over Hydraulic
Electric over Hydraulic
Emergency Stop
E Stop Button
E Stop Button
Hydraulic Tail Gate
Standard
Standard
Transport Lights
Standard
Standard
Bale
Round
Up to 5' 6"
Up to 5' 6"
Square (Single)
Up to 3' x 3' x 5' 6"
Up to 3' x 3' x 5' 6"
Square (Double Stacked)
NA
NA
Film Stretcher
(2) 30" x 55%
(2) 30" x 55%
Bale Alignment
Adjustable
Adjustable
Bale Guide Rollers
Optional
Optional
Hoop Speed
Adj. Flow Control Valve
Adj. Flow Control Valve
Cycle Times*
5' Round (66" Cycle Length)
29 sec.
29 sec.
4' Round (54" Cycle Length)
23 sec.
23 sec.
* NOTE: BaleWrappers applying 8 layers - equipped with 20HP Engine, High flow pump, and Twin Wrap Kit.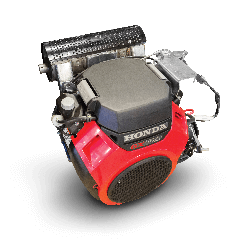 20HP Honda Engine
Honda Engines power the fluid through the hydraulic system ensuring efficient flow from the reservoir to valve body. The 20HP engine comes with a high flow pump providing an ample supply of fluid to the valve body.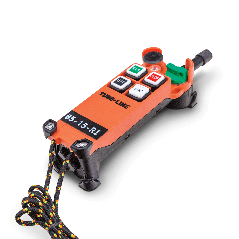 Remote Steering and Shutdown Kit
This rugged remote allows you to start, shut down, and control your wrapper remotely.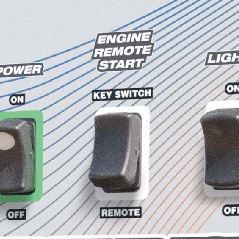 Remote Engine Start
This switch, located on the control panel, toggles between the engine starting with the key directly, or by using the remote.
Dual Hydraulic Power Drive
The dual hydraulic power drive gives your wrapper's drive system more power to get through tough to drive through areas.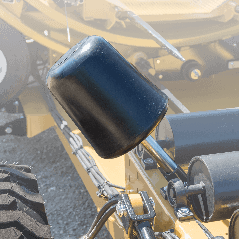 Guide Rollers
The guides rollers are located on the tail of the wrapper to help guide the bales after being wrapped, reducing risk of damage.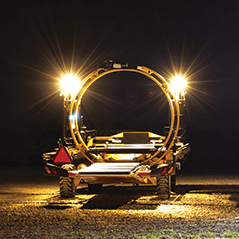 Night Working Light Kit (Halogen)
The night working light kit extends your working hours to ensure you get all your wrapping done no matter when you start.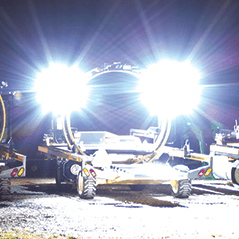 Night Working Light Kit (LED)
The night working light kit extends your working hours to ensure you get all your wrapping done no matter when you start.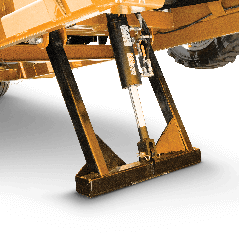 Quick Start Power Jack
A level roller bed secures the first bale for a tightly packed start to your row.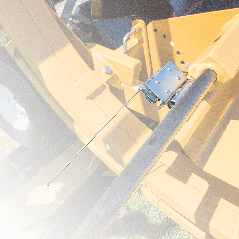 Film Sensor
The film sensor automatically shuts down the wrapper hoop when it detects a break in the film, or when the wrapper runs out of wrap.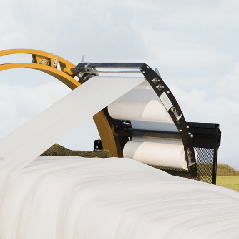 Twin Wrap Kit
Tubeline's Twin Wrap Kit holds two rolls of film and passes them through a single stretcher. This activates the wraps' bonding compound to form a strong 2-Ply layer of film that stands up to tough hay stalks and folds them over helping to prevent piercing of the wrap.
By combining two sets of two rolls for a total of four, Tubeline's twin wrap kit provides all the same protection as four separate stretchers with the additional benefit of producing a more durable bonded 2-Ply film that stands up better than four single ply layers.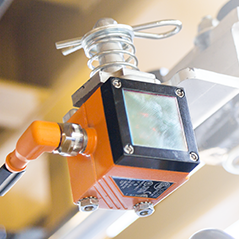 Laser Steering System
Optional on all AX2 inline wrappers, the laser steering system is designed to automatically steer the wrapper, spacing your bale rows consistently every time.