The Bale BOSS R is built with the same versatility and quality you've come to expect from the Bale BOSS family. Bale BOSS R holds one round bale up to 4 feet wide and up to 6 feet in diameter.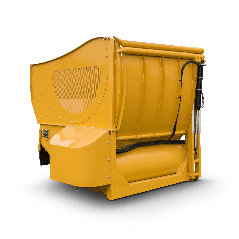 Self Loading
A hydraulic loading arm folds down from the side of the unit allowing a single round bale to be lifted onto the apron.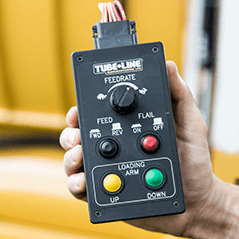 Controller
All of the Bale BOSS R functions are accessible through the wired controller.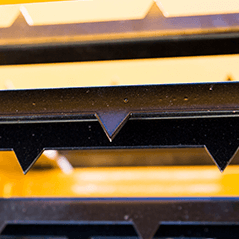 Apron Chain
A rugged apron chain feeds the bales into the flail for processing.
Other Standard Features
Loader Mount
Flail Rotor
Adjustable Deflector
Specifications
Bale BOSS R
Min Hyd. Flow (GPM/P.S.I.)
18 / 2500 P.S.I.
Weight
1,900 lbs.
Width
85"
Length
74"
Height
76"
Round Bale Sizes
Up to 4 ft wide
Up to 6 ft diameter
*All high flow hydraulic motors require a case drain be installed to maintain warranty coverage.