Features
Specifications
Options
The Bale BOSS 2 is the perfect tool for all of your large square bale processing needs. From bedding to feeding, the Boss 2 can manage it all.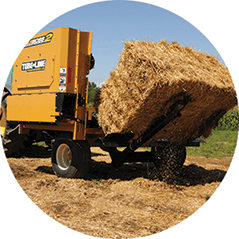 Self Loading
The self loading design allows you to carry two bales. One on the table and one on the forks.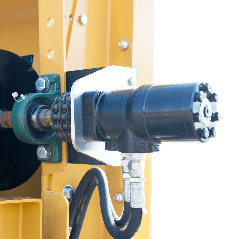 Top Paddle Roller (Hydraulic)
The adjustable paddle roller feeds the top portion of the bale into the flail. Height and speed adjustments allow for different sized bales. Not available on HD model.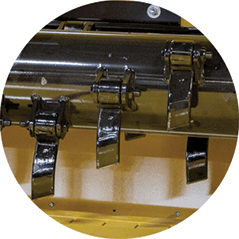 Flail Rotator
Belt driven from the tractors PTO, the flail rotor easily chops through a variety of bales.
Other Standard Features
Adjustable Hydraulics
Travel Lock
Distribution Chute
Belt Drive with Tensioner
Twine Guard
Specifications
BOSS 2
BOSS 2 HD
HP Required
80-180
120-250 HP
Tires
12.5L x 15
12.5L x 15
Weight
4,170 lbs.
5,150 lbs.
Dimensions (LWH)
126" x 140" x 90"
126" x 144" x 94"
Bale Capacity
2
2
PTO
540 or 1,000 RPM
540 or 1,000 RPM
Drive Belt
37 mm
87 mm
Number of Flails
38
38
Top Paddle Roller
Yes
NA
Deflector
Man / Hyd (opt.)
Hyd
Round Bale sizes
36" x 36" x 108"
48" x 36" x 108"
48" x 48" x 108"
36" x 36" x 108"
48" x 36" x 108"
48" x 48" x 108"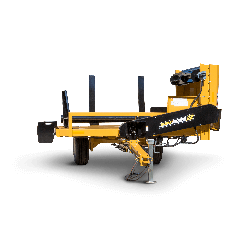 Narrow Track Width
The optional narrow track width is ideal for use in berry or produce fields.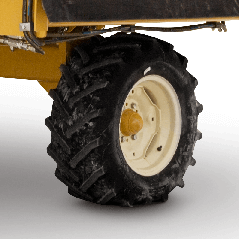 Tractor Lug Tires
Optional for both the BOSS 2 and BOSS 2 HD, are the 31 x 1550-15 super trencher lug tires. Factory upgrade.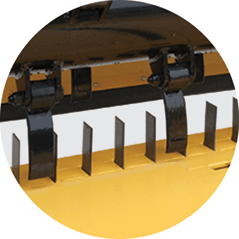 Adjustable Cutting Knives
Adjustable cutting knives help to further chop up bedding material for a finer and more consistent spread.

Hydraulic Actuator for Deflector
Available exclusively for the standard BOSS 2 model, the optional hydraulic actuators for the deflector can be installed direct to the tractor remote or through the diverter valve off the bale lift cylinder.
NOTE: Not available on the BOSS 2 HD model.