The TechnoBale's fully adjustable arm is designed to give the bale a spin before picking it up, so you can follow the path of the baler without time-consuming and damaging cross-tracking. You can adjust everything from the arm to the bale guides on the TechnoBale to fit your preferred bale size, from 4x4 to 5x6, for safe and simple operation. The convenient hydraulics are designed to work with most tractors' available hydraulics requiring only two sets of auxiliary outlets, moving from the loading cycle to the unloading cycle with the flip of a switch.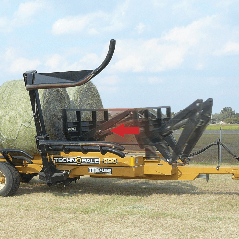 Scissor Push Ram
Scissor style pusher reduces cycle time.
Easy Unloading
Hydraulic cylinders raise the bed up to 45 degrees to quickly unload bales in a row.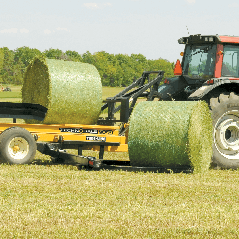 Pick Up Arm
Pickup arm gently spins the bale into position.
Other Standard Features
Low Profile Design
Fully Adjustable
Comes complete with electric diverter valve for third function to operate unloading tilt cylinder
All wiring and hose couplers included
Heavy duty adjustable loading arm
Double cylinder on tilt bed
Specifications
980
Auxiliary Outlets Required
2
Horsepower Requirement
120 HP min
Tires
15/55 x 17" 18 Ply
Hub Ratings
8 Stud, 12,000 lbs.
Shipping Length
25'
Shipping Width
10'
Operating Width
12'
Shipping Weight
7,200 lbs.
Bale Capacity on Bed
10 (4' x 4' to 4' x 5')
8 (5' x 5' to 5' x 6')
Bale Capacity on Arm
1