The TL1000R is a valuable addition to any hay producers arsenal. Easy to maintain and even easier to use, the TL1000R uses tractor hydraulics to spin and rotate the bale ensuring it's completely wrapped every time.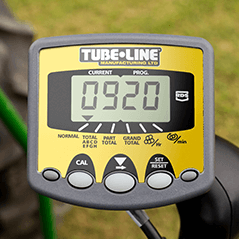 Counter
The wrap counter allows you to set the number of wrap rotations for each bale, as well as view the progress for the bale being wrapped.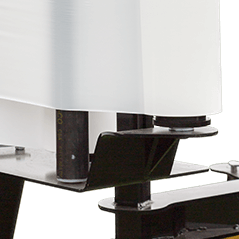 Offset Twin Wrap
Tubeline's Twin Wrap Kit laminates two layers together to form a stronger 2-ply layer of plastic. The Twin Wrap Kit is offset, creating a 4" lead which ensures optimal overlap as the film is layered.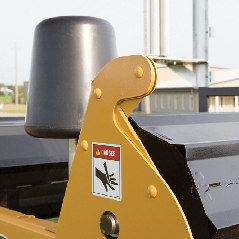 Wrap Cutter
The integrated knife conveniently cuts the wrap automatically after you've dumped the bale, allowing you to stay in the tractor and start wrapping the next bale.
Other Standard Features
Adjustable Bale Guides
Skidshoes/Rollers
Bale Support Rollers
Transport Lock
| Specifications | TL1000R |
| --- | --- |
| Bale Size | 4' x 4' & 5' x 5'6" |
| Film Width | 30" (x2) |
| Length | 104" |
| Width | 80" |
| Height | 84" |
| Weight | 1,600 lbs. |
| HP Required | 30 HP |
| Three Point Hitch | Category II |
| Drive Type | Hydraulic |
| Bale Guides | Adjustable (4' or 5') |