Providing increased capacity, the Bale BOSS 4 can carry up to four 4x4x9 bales making it ideal for large feed lots or large operations where bales may need to be hauled daily.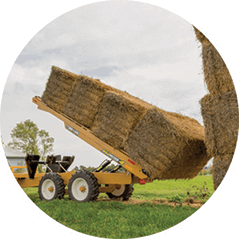 Self Loading (Unloading)
The self loading design of the BOSS 4 allows you to easily spear a stack of bales and lower them in place.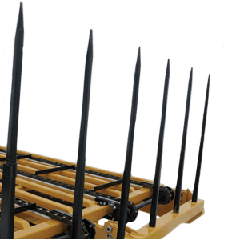 Bale Spears
Four Bale Spears drop from the rear of the bed when raised allowing you to spear the bottom bale and lift the stack when the bed is lowered.
Flail Rotor
Belt driven from the tractors PTO the flail rotor easily chops through a variety of bales.
Other Standard Features
Dual Apron Chains
Belt Drive with Tensioner
Distribution Chute
Adjustable Hitch
Adjustable Tongue Height
Specifications
Bale BOSS 4
Overall Length
28'
Overall Width
12.5'
Bale Bed Length
17'
Bale Bed Width
8'
Shipping Weight
11,000 lbs.
Bale Bed Picks Up
4 - 4' x 4' bales
Shredder Deck Accepts
(removed for shipping)
3' x 3' x 9'
4' x 3' x 9'
4' x 4' x 9'
Tires
Tandem Lug Tires 12.4x24x8
Adjustable Tongue Height
Yes
HP Rating
120-250 HP