Ideal for small to medium sized operations, the TL1100R is an automatic bale wrapper that takes control of wrapping your round bales individually. Easy to use, this bale wrapper can be run while mounted on the 3PH and connected to the tractors hydraulics or as a standalone unit when equipped with our optional hydraulic power pack.

The TL1100R comes standard with Tubeline's Twin Wrap Kit. The Twin Wrap Kit simultaneously pulls film from two rolls laminating them together to creating a stronger film. It also offsets the wrap creating a 4" lead which ensures optimal overlap as the film is layered.

All functions of the TL1100R can be controlled from the wireless remote providing true one person operation.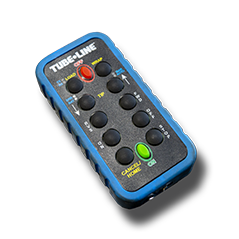 Wireless Remote
The wireless remote is capable of running all functions of the TL11OOR.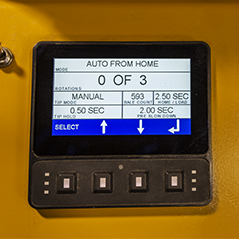 LCD Display
An easy to read display provides real time information and is easy to read in direct sun light.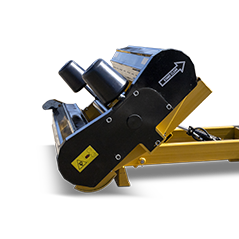 Hydraulic Bale Dump
Wrapped bales are hydraulically dumped off the table at the end of the automatic cycle.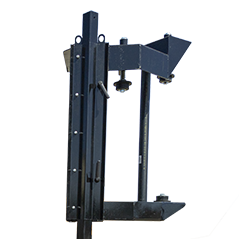 Adjustable Wrap Carrier
Two quick release handles allow the fixed twin wrap carrier to be raised or lowered to properly center the wrap on the bale for even distribution.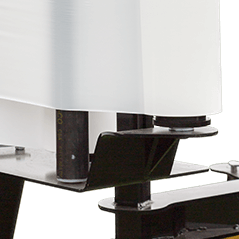 Offset Twin Wrap
The offset twin wrap kit provides 4 inches of lead between layers. This increases the number of seams and provides a better seal.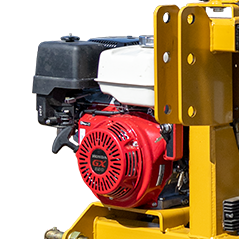 Optional Power Pack
The TL1100R-AP model is equipped with the optional power pack for stand alone operation.
Other Standard Features
Twin Offset Wrap Kit
Fully Automatic with LCD Display
Mounts on CAT 2 3PH
Hydraulically Powered
Hydraulic Dump Function
Flow Control Regulated Table Rotation
Mechanical Table Rotate Lock
Transport Lock
Wrap Cutter
| Specifications | TL1100R |
| --- | --- |
| Bale Size (Round) | Up to 5' x 6' |
| Film Width | 30" (x2) |
| Minimum Hyd. Flow | 5 GPM @ 2500 PSI |
| Hitch | 3PH (Category II) |
| Drive Type | Hydraulic |
| Bale Guides | Adjustable (4' or 5') |
| Offset Twin Wrap | Fixed 4" |
| Length | 118" |
| Width | 79" |
| Height | 88" |
| Weight (LBS.) | 1,550* |
| Power Pack | Optional |
* Weight includes optional power pack.